Measurements of the Zell-Check
---
Minerals, Heavy Metals & Oxidative Stress
The evaluation shown above is the result of a Med-Check. No flat rate is available for the Med-Check.
The Zell-Check makes it possible to measure the bio-availability of minerals and heavy metals. Furthermore, it is possible to measure oxidative stress & protection for the first time. The Zell-Check also provides results on the intake of micro-nutrients in the skin and the acid-base balance.
Immediate measurement of various medical data
20 micro-nutrients, half-metals, and the most important minerals
14 heavy metals which are the most dangerous to the body
14 other parameters, including the most important parameters that can be derived from the available data
These measurements can ensure a preventive health check.
Become a Zell-Check Analysis Center
Take full advantage of the Zell-Check and become a certified Zell-Check analysis center.
Measurements
---
Measurements for the Vitality-Check and Med-Check
For Your Health
---
MINERALS AND ANTIOXIDANTS ARE NECESSARY FOR THE CORRECT FUNCTIONING THE BODY.
Minerals
Mineral substances (macro- and micro-nutrients) play a decisive role in the proper functioning of an organism. Therefore, a daily intake of these substances is very important because the human body cannot make it by itself.
Therefore, a lack of micro-nutrients or minerals can be a cause of poor physical condition, such as exhaustion, vulnerability to stress, or decreasing ability to concentrate, and intellectual abilities. It is therefore important to control the mineral content in the organism in order to mitigate these risks.
Heavy Metals

Studies by the WHO or the FAO have highlighted the increasing dangers of massive exposure to toxic substances. Pollution in the air, ground water, soil, food, water, tobacco, etc., continue to increase the contamination risks and cannot be avoided – they present a considerable risk to health.
Heavy metals cause oxidative stress.
Oxidative Stress
Oxidative stress is a kind of attack on cell components by free radicals.
Oxidative stress is responsible for aging and for numerous disorders.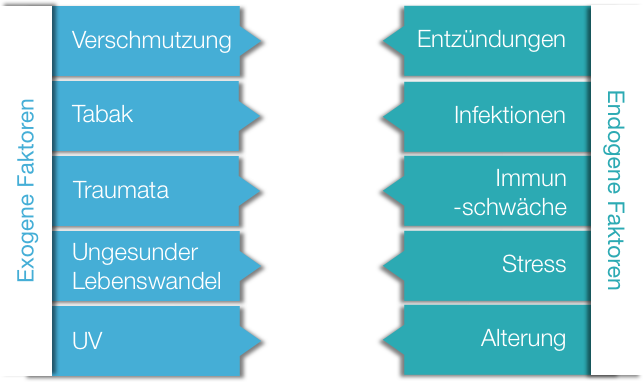 Free radicals are counteracted by antioxidants.
Free radicals are small molecules produced by the organism in small numbers. These free radicals are very reactive substances which can damage cell components (enzyme proteins, lipid membranes, DNA). They are mainly formed by exposure to sunlight (UV rays), tobacco, environmental pollution, pesticides, etc.
To combat free radicals, an antioxidant rich diet is crucial; these are found mainly in fruits and vegetables.
Overview of all measured values
---
DETAILED LIST OF ALL THE VALUES OF THE VITALITY-CHECK & MED-CHECK
Measured values of the Vitality-Check
Minerals
Calcium
Magnesium
Phosphorus
Silicon
Copper
Zinc
Chromium
Iodine
Selenium
Sulfur
Micro-Nutrients
Resources against stress
Acid-base balance
Immune system
Oxidative Stress and Heavy Metal Exposure
Oxidative stress
Oxidative protection
Total toxic metal exposure
Metabolism
Fat metabolism
Metabolic balance
Recording micro-nutrients through the skin
Anti-Aging Skin
Elasticity
Tendency to wrinkle
Basic supply deficit in the skin
Hair
Tendency for hair loss
hair quality
Measured values of the Med-Check
Minerals
Calcium
Magnesium
Phosphorus
Silicon
Sodium
Potassium
Copper
Zinc
Iron
Manganese
Chromium
Vanadium
Boron
Cobalt
Molybdenum
Iodine
Lithium
Germanium
Selenium
Sulfur
Mineral Balance
Toxic Metal Balance
Aluminum
Antimony
Silver
Arsenic
Barium
Beryllium
Bismuth
Cadmium
Mercury
Nickel
Platinum
Lead
Thallium
Thorium
Exposure to Toxic Metals
Total toxic metal exposure
Suspected of blocking the removal of toxic metals by the absence of sulfur compounds
Ratio/Proportion
Oxidative Stress
Oxidative aggression
Oxidative protection
Interpretation of the Interrelationship of the Micro-Nutrients
Possible Problems

Total toxic metal exposure
Acidosis
Tendency for diabetes
Tendency for allergies

Physiology

Enzymatic status
Absorption through the intestine
Metabolism
Immune system
Cognitive function
Hormonal status
Connective tissue generation
Emotional status
Cardiac Disorders
Nervous system
Note: No flat rate can be booked for the Med-Check.
Become a Zell-Check Analysis Center
Take full advantage of the Zell-Check and become a certified Zell-Check analysis center.